Neural Prolotherapy
Dr Weglein is certified in prolotherapy. He has given many lectures on prolotherapy both nationally and internationally, and is considered to be a professor on the topic of Orthobiologic medicine.
Neural Prolotherapy - Patient Testimonial
Many years ago Dr Weglein traveled to italy to obtain training in Neural Prolotherapy, from Dr Lyftogt. Currently, in the world there are only a hand full of physicians trained in Neural Prolotherapy.
One of the newest advances in orthobiologic Medicine is the use of Neurofascial Prolotherapy. Dr. John Lyftogt and Dr Dean Reeves have developed Neurofascial Prolotherapy also called Neural Prolotherapy. This is not to be confused with traditional "German" Neural injection therapy. Neurofascial Prolotherapy (NPT) was born out of clinical observations and involves the treatment of Neurogenic inflammation. NPT is given just under the skin in or close to subcutaneous nerves at weekly intervals. Dr Lyftogt's Research shows 89% of patients satisfied with 6.8 treatments with a mean follow up of 20 months.
Glucose responsive nerves have been demonstrated throughout the nervous system.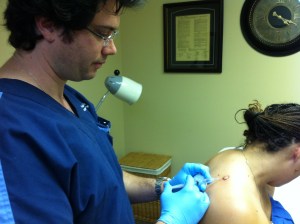 Another critical concept in NPT is Hilton's Law. Hilton's Law states: the nerve supplying a joint also supplies both the muscles that move the joint and the skin covering the articular insertion of those muscles. This concept is very interesting as it can explain the wide reaching affects of NPT on pain control.
I have been using Neural Prolotherapy in my practice for the past year with outstanding results. It has become my first treatment option followed by traditional Prolotherapy and Platelet Rich Plasma as needed. I find that in about 60% of my patients I have complete pain control with only Neural Prolotherapy.
Neural Prolotherapy is indeed a powerful treatment option that we may choose to use in our field of Musculoskeletal Medicine.
Dr Adam Weglein, D.O.DABMA
Board Certified Sports Medicine
Please click here for more details about Neural prolotherapy

You will need the Adobe Reader to view and print these documents.