Platelet Rich Plasma Therapy (PRP Therapy)
Click to watch Dr. Adam Weglein talking on PRP therapy
Knee Pain Houston
Chilean Miners Rescue Team Director - Patient Testimonial
Bone on Bone Knee post Dr Weglein Unique PRP Treatments
Is all PRP the same?
No, At the Regenerative Ortho Med Clinic Houston, we are world leaders in Platelet Rich Plasma technology. Dr Weglein has published the first PRP textbook and has done 7,000 PRP treatments over the past 10 years. Dr Weglein has invented sub types of PRP and adjunctive treatments, allowing a unique treatment based on your individual condition.
What is Platelet Rich Plasma (PRP)?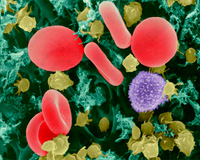 PRP is the injection of the patients own platelets, in high concentration into an injured tendon, ligament or Muscle tear. The Platelets contain growth factors which help stimulate natural healing.
Why platelets?
When we injure ourselves, one of the first repair cells that travel to the injury are platelets. Platelets are rich in many different growth factors. These Growth factors help attract other repair cells, (neurtophils, monocytes, fibroblasts) these "worker" cells then allow normal healing to take place.
Unfortunately, our tendons and ligaments have a very poor blood supply, which leads to an incomplete or much delayed healing response. With PRP we are helping to bring these natural healing cells to an area that have been deficient, thereby allowing the body to repair the tissue faster.
This leads to much quicker reduction in pain and faster return to sports and daily living activities.
PRP procedure
PRP is done in our office under ultrasound guidance. The procedure takes about 45 minutes in total. First a small amount of blood is taken and placed in our office centrifuge. The centrifuge separates and concentrates the platelets. Dr Weglein will then use the ultrasound to visualize the damaged tissue. The area is injected with a numbing agent, followed by the injection of PRP all done under direct MSK ultrasound guidance.
Patients should try to be off anti inflammatory medicines like ibuprofen, naprosyn, for about one week before getting PRP.
Baby Aspirin 81mg is ok to take.
Who has done this PRP
PRP has been done since 1990.
This procedure has been used by many professional teams such as:
Used in NFL, Pittsburgh Steelers, Los Angeles Dodgers, New York Mets, Houston Astros, LA clippers, Rutgers College, Mayo Clinic, Cleveland Clinic, and many more.
What area can you teat with PRP
You can potentially treat any part of the body that has a ligament, tendon or muscle tear with PRP. Some examples are, rotator cuff tear, ankle sprain, tennis elbow, and osteoarthritis.
Post PRP MRI results
Post PRP MRI results
With our new Regenerative Clinic, we are now able to make a patient specific, unique custom prp product for each individual condition. This is the only such Regenerative Clinic in the Houston, allowing us to provide superior Non Surgical treatments for tendons and osteoarthritis.
Prolotherapy can be used to treat the entire body some examples include: knee pain, shoulder pain, elbow pain, hip pain, foot and ankle pain. Conditions like: tennis elbow, plantar fasciitis, arthritis and rotator cuff.
Related Articles
To evaluate the effect of combining photo-activation therapy with platelet-rich plasma injections for the novel treatment of osteoarthritis
Photoactivated platelet-rich plasma therapy for a traumatic knee chondral lesion.
---
All the Patient Forms are Adobe PDF files and require an Adobe Acrobat Reader If you do not have a copy, you can obtain a free copy of the Reader from the Adobe site. Click on the Adobe logo below go download the Adobe Reader.